Builders Digest Names Generation Homes as One of the Best Custom Builders in Northeast Florida
Builders Digest named Generation Homes one of Northeast Florida's Best Custom Home Builders.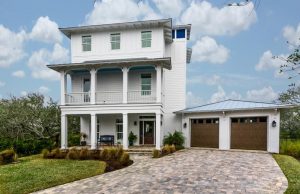 For over 20 years, Generation Homes has renovated and built fine custom homes in the neighborhoods of St. Augustine, Ponte Vedra, and the Intracoastal areas.
Company's president and founder, Cora Johnston, enjoys an authoritative homebuilding reputation outside the firm as well.
She popularized what the firm is best known for building: the Moderately Coastal Homestyle and the GrowHOMES concept. GrowHOMES are pre-planned designs that take into consideration future additions and remodels: the idea that the home can 'grow' as the family grows.
She also appeared in the National Association of Home Builders' Professional Women in Building Week for her expertise and dedication to client satisfaction.
Generation Homes, specializing in oceanfront and coastal homes and remodeling, has created a unique dialogue with new homeowners on the local level.