Generation Homes Celebrates National Home Ownership Month
The only people who benefit when a new home is built along Florida's First Coast are the those who get to live there, and the builder who constructed and sold the home, right?
Not so fast. The positive impact of new residential construction is much far-reaching than that. It brings benefits to families, businesses and services immediately throughout Northeast Florida, as well as for years to come. But there is also a personal story.
As the National Association of Home Builders (NAHB) kicks off National Home Ownership Month, Generation Homes, a custom focused builder specializing in oceanfront and coastal homes and remodeling, has created a unique dialogue with new homeowners on the local level.
It begins with Generation Homes President Cora Johnston hearing what new homeowners want in their home. Vision, idea, dream – call it what you will. Johnston and the Generation Homes team never forgets whose home they are building.
So June being New Homeowners Month fits right into that basic philosophy.
According to economists at the National Association of Home Builders, the one-year estimated local impacts of building 100 single-family homes in a typical metro area include $28.7 million in local income, $3.6 million in taxes and other local government revenue, and 394 local jobs
Generation Homes is building in the new Sea View community in St. Augustine Beach and premier communities along the First Coast from Ponte Vedra Beach to Hammock Beach, including Vilano Beach, Flagler Beach, Beach Haven, Anastasia Dunes, Magnolia Dunes, Marsh Creek, Sea Colony, Sea Grove, and Whispering Oaks and on coastal private lots.
"When a family moves to the beach and buys a new house, they will likely shop at local stores to buy furniture and accessories to decorate the home," noted Johnston. "They will fill their car's gas tank at local gas stations so they can get to the stores, have local mechanics work on the car when it breaks down or needs the oil changed, or buy a new car at a local dealer when it's time to replace the old one."
That view from 30,000 feet only supports the personal side of owning a new home.
Children will enroll in local schools. This increases enrollment, meaning more teachers, janitors, cafeteria workers and other school support staff will need to be hired. Those kids will also join sports leagues and other activities, buy equipment and pay registration fees that provide stipends for referees and coaches.
And families do grow.
Generation Homes' GrowHOME concept is to plan for growth and change in a home during the design phase so future additions and renovations are pre-engineered into the home, making it easier and more cost effective to make those changes when the time comes.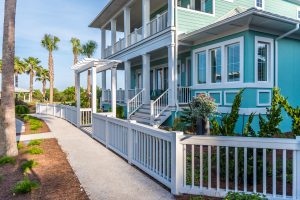 "Our goal is to help our customers plan for their future with their home," Johnston noted. "Even if a customer thinks this is the last home they'll ever own; our experience tells us nothing stays the same forever. Adding 'grow' spaces to a custom plan is a natural fit because lives are always evolving and it gives our customers great security and satisfaction knowing their home can evolve with them."
Designing future additions into a home plan before it is built is a refreshing perspective on a traditional thought process.
The new family also pays taxes. These county tax revenues help pay for a wide range of government services, including school teachers, police departments, refuse collection, parks maintenance and road repairs.
Over the long term, as the families who move into new homes become part of the community, their positive impact continues. NAHB estimates that those 100 new homes also provide the community with additional, annually-recurring impacts of $4.1 million in local income, $1 million in taxes and other revenue for local governments, and 69 local jobs.
Families who buy a newly built home enjoy numerous benefits including safety, amenities and energy efficiency.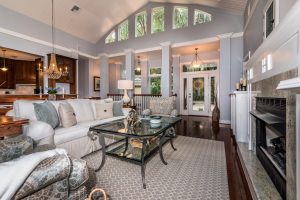 The energy-efficient Shades of Green® program allows homeowners to choose the level of green built into their home. The goal is to save money on monthly utility bills by engineered construction such as the open cell spray foam insulation under the roof.
One feature of Generation Homes' sustainable design is passive heating and cooling, which reduces energy costs. To avoid destructive grading, homes are built with stem walls or crawl spaces, which also add to the vintage charm.
Generation Homes builds to withstand the test of time and maximize comfort. Using effective and proven construction techniques has earned a well-deserved reputation for finish, style and sustainability.
For more information, call (904) 955-4769.