Generation Homes Working with Rob Florez Designs on Sea View in St. Augustine Beach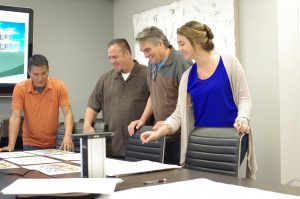 Since the 1980's Rob Florez has been setting the tone and design for coastal living along the East Coast. That's one of the reasons Florez was chosen to create new homes designs for Generation Homes' homeowners in Sea View, St. Augustine Beach's newest community on AIA South.
"The process of designing innovative homes for Sea View by St. Augustine Beach based Rob Florez Designs is a true source of personal pride for Rob and his team. They take a great amount of personal pride into every project. That can be seen in every one of their designs," said Generation Homes President Cora Johnston.
So, what makes one of the top coastal home designers connect with homeowners and builders? Meet Rob Florez:
Where do you get your overall inspiration from?
I have always been inspired by the historic, coastal cities (St. Augustine, Savannah, Charleston, Edenton, NC and Hampton, VA). Also, by modern architecture.
Is there a design trait that annoys you?
Yes, anything that does not have a function.
What confluence of styles will we see in your designs for Sea View?
Island and coastal craftsmen style.
How does the exterior of a home reflect the interior and vice versa?
Form follows function. The interiors we strive to design for the site, views and, of course, the client's personal preferences.
What would you describe as your personal aesthetic?
Open, bright spaces with details that add interest to the spaces.
What does the ultimate beach house look like to you?
David Bowies house in Fiji.
What makes you most excited about working on designs for Sea View?
Generation Homes attention to detail, client service and their dedication to providing their clients with their dream home.
What do you do in your spare time?
I spend the time with family and friends, cooking. Any extra time, I love to do my artwork (paintings and sketches).
Rob Florez Designs and Generation homes will soon be unveiling incredible beach designs for Sea View. As always Generation Homes listens to homeowners about their own vision, needs and ideas. Never forgetting it is their home.
Generation Homes works closely with today's most savvy homeowners from Jacksonville Beach to Palm Coast desiring coastal living at its most stylish with bright, airy floorplans, gourmet kitchens, great rooms and flexible spaces that add to its fresh appeal.
Generation Homes is building in the new Sea View community in St. Augustine Beach and premier communities along the First Coast from Ponte Vedra Beach to Hammock Beach, including Vilano Beach, Flagler Beach, Beach Haven, Anastasia Dunes, Magnolia Dunes, Marsh Creek, Sea Colony, Sea Grove, and Whispering Oaks and on coastal private lots.
For more information, call (904) 955-4769.