MY GENERATION BLOG: Delivering Features New Homeowners Want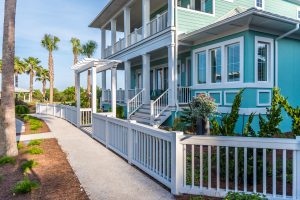 Better Homes and Gardens magazine and the National Association of Home Builders (NAHB) recently weighed in on what they perceive that people want in their homes. And a lot of consumers' dreams revolve around expressing their personal style.
For coastal builder Generation Homes here is the eternal question: "How do we deliver what homeowners want?"
Part of the answer is how closely Generation Homes works with new homeowners from Jacksonville Beach to Palm Coast to create and build their new residence to match their lifestyle, dreams and expectations. Some homeowners bring the coastal builder drawings and sketches of what their ideal home would look including the features they would like.
From there the Generation Homes' team goes to work to match the homeowners' ideas and desires with solid construction and creative design experience as well a budget.
The personal attention each homeowner receives in building their home is unmatched. That's because Generation Homes never forgets who they are building for.
In the latest survey the NAHB gave consumers a list of 50 features that might be included in a new home and asked them to pick their favorites. Top choices included a walk-in closet in the master bedroom, a separate laundry room, Low-E (energy-saving) windows, a great room and Energy Star-rated appliances. The long-running dream of granite countertops held on, snagging 10th place.
Generation Homes is currently building in the new Sea View community in St. Augustine Beach and premier communities along the First Coast from Ponte Vedra Beach to Hammock Beach, including Anastasia Dunes, Beach Haven, Magnolia Dunes, Marsh Creek, Sea Colony, Sea Grove, and Whispering Oaks and on various private lots throughout Northeast Florida.
For more information on Generation Homes call (904) 955-4769.