Real Estate Veteran Elaine Raynor Joins Generation Homes
FOR IMMEDIATE RELEASE
ST. AUGUSTINE BEACH, Fla. (August 20, 2016) – Elaine Raynor has joined coa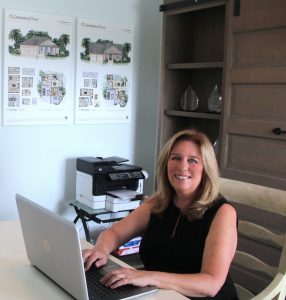 stal homebuilder Generation Homes in sales and marketing.
"Elaine brings a wealth of knowledge and experience to our team. She understands and amplifies our philosophy to personally work with each homeowner to ensure their new home so that it reflects their ideas and vision during each phase of the construction process," note Generation Homes President Cora Johnston.
Raynor works out of Beach Haven in Palm Coast, with new homeowners in Sea View, St. Augustine Beach's newest residential community, and those interested in custom homes on private lots.
"In talking and getting to know homeowners, many come to us knowing pretty much what they want. Their dream, how the home fits their lifestyle, their needs, now and in the future," noted Raynor. "We work very closely with them to meet their expectations and create their home."
And being a St. Augustine Beach resident she understands the appeal of coastal living and can help homeowners capture that essence.
"That is one of the reason's I enjoy being a part of Generation Homes. It's great to be able to help a new homeowner realize their goals and make the building of their home an enjoyable experience. It also speaks volumes to Generation Homes' reputation as a true personal builder," Raynor said.
Raynor come to Generation Homes after a long career at MAY Management in St. Augustine Beach. There she helped the local firm grow to become one of the leading property management firms in Northeast Florida. She was also the Architectural Review Board Coordinator for communities and projects.
Generation Homes is building in the new Sea View community in St. Augustine Beach and premier communities along the First Coast from Ponte Vedra Beach to Hammock Beach, including Anastasia Dunes, Beach Haven, Magnolia Dunes, Marsh Creek, Sea Colony, Sea Grove, and Whispering Oaks and on private lots.
Generation Homes builds to withstand the test of time and maximize comfort. Using effective and proven construction techniques has earned a well-deserved reputation for finish, style and sustainability.
For more information, call (904) 955-4769 or visit www.generationhomesusa.com.